The Map of Mandoria will show you the shortest way to your favourite attractions.
You will find restaurants and cafes of the City of Adventure here, souvenir shops and many others. Remember that Mandoria is also a city of surprises – there are places here that you cannot find on the map.
Can you find them all in Mandoria?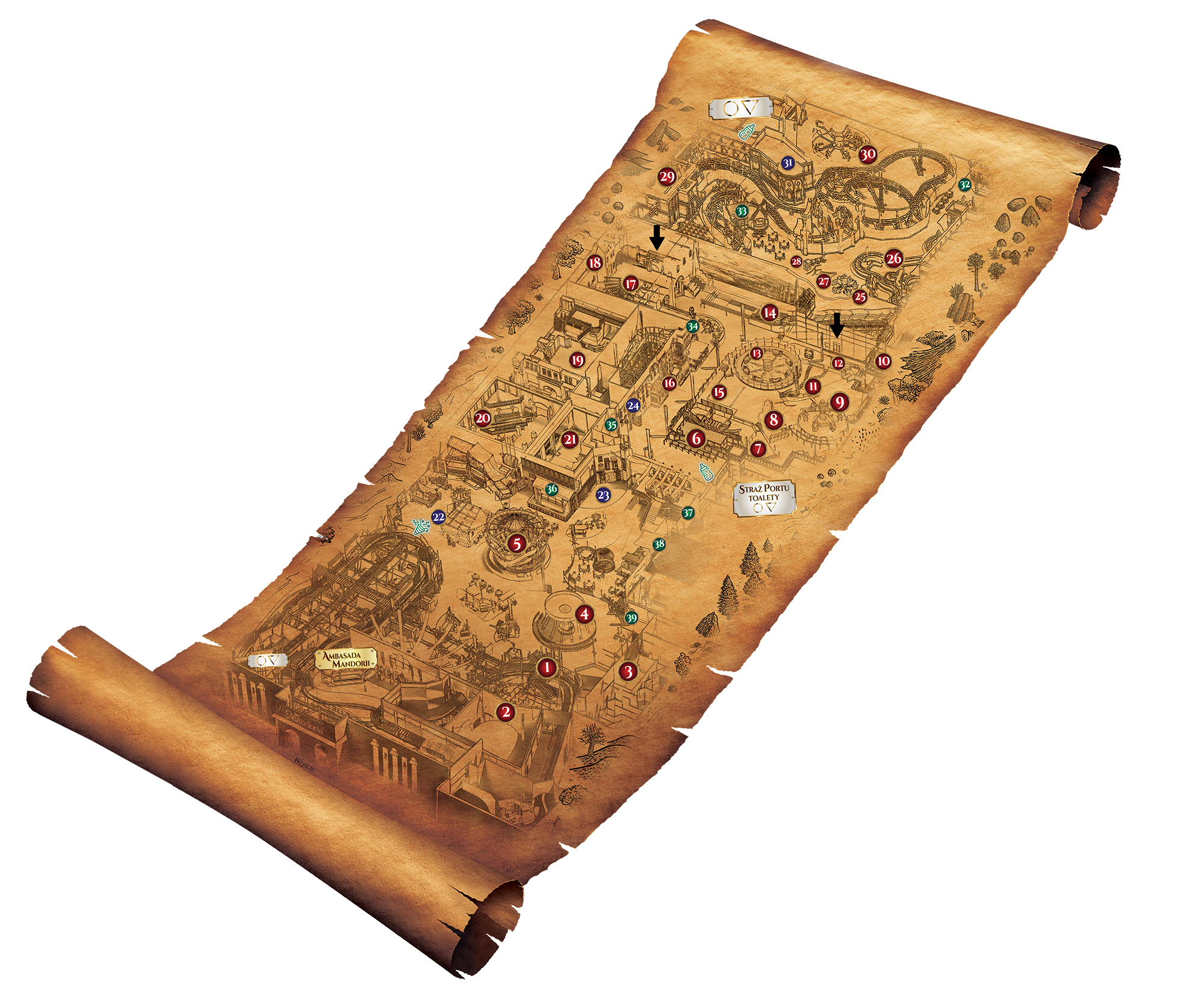 with a guardian
without a guardian
1.

Merkant

100 – 120 cm

od 120 cm


The longest indoor roller-coaster in Europe
2.

Treasury

do 110 cm

od 110 cm

A giant mirror maze

3.

Gem

120 – 140 cm

od 140 cm

Chain carousel with double chairs

4.

Caravan

do 105 cm

od 105 cm


The largest two-tier Venetian carousel in the country
5.

Galeon

90 – 105 cm

od 105 cm


A giant ship whirling over the port
6.

The Bay of Weatherfish

for everyone

Remote-controlled boats

7.

Shooting Range

for everyone

A unique shooting range with historic rifles

8.

Leonardo's Workshop

90 – 120 cm

od 120 cm

A delightful Magic Bicycles carousel

9.

Bastion

for everyone

Viewpoint

10.

Wreck

for everyone

11.

Raft

for everyone

12.

Fisherman Bartek

do 105 cm

od 105 cm

Carousel with boats on the water

13.

Barbican

85 – 100 cm

od 100 cm

A huge family slide with up to 6 lanes

14.

Boats

85 – 130 cm


Pedal boats for children
15.

Town Hall

85 – 100 cm

od 100 cm

One of the biggest pranks in the country

16.

Barrels

do 105 cm

od 105 cm

A wonderful carousel in the vineyard

17.

The Dark Manor

95 – 120 cm

od 120 cm

The only roller-coaster in the country that rides in the dark

18.

Kazimir's Atelier

105 – 120 cm

od 120 cm

19.

The Jester Orchestra

do 105 cm

od 105 cm

Hilarious moving bench

20.

Ball of Shoes

100 -120 cm

od 120 cm


The only cars in Poland colliding that look like shoes
21.

Arcade games

for everyone

22.

Scene

for everyone

23.

Quasi Moda

for everyone

Gift shop

24.

Karotka

do 90 ccm

od 90 cm

A lively carousel for young and old

25.

Sly Otter

90 – 150 cm


The only roofed river in Poland
26.

Dario's Valley

do 100 cm

od 100 cm

A playground for the youngest Explorers

27.

Old Fort

do 120 cm

od 120 cm

The largest wooden playground in Poland

28.

Carrara

100 – 130 cm

od 130 cm


The fastest roller-coaster in Mandoria
29.

Warehouse

for everyone

Gift shop
| | |
| --- | --- |
| 30. | Crazy Hen |
| | Kitchen with fast food |
| 31. | Windmill |
| | Homemade casserole |
| 32. | 3 Bells |
| | Tawerna |
| 33. | Gelato |
| | Ice Cream Shop |
| 34. | Abu Cafe |
| | Café |
| 35. | Piazza di Mandoria |
| | Italian restaurant |
| 36. | Fast Ferret |
| | Traditional cuisine in the form of a buffet |
| 37. | Lollipop |
| | Handmade sweets |